THE AMAZING BUGS OFF® PAD!
REUSABLE OVER & OVER AGAIN
Bugs Off® Pads are the absolute best way to clean ANY & ALL bugs off cars, trucks, motorcycles, vans, & RV's QUICKLY & EASILY! While they are a fantastic bug remover, they do more!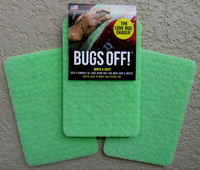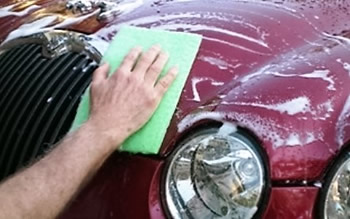 Bugs Off® Pads are the only product on the market that is safe to use on:
Paint - Clear Coat - Plastic - Glass - Wraps - Graphics - Metals
Our Bugs Off® Pads are meant to wash your entire vehicle using only car wash soap & water and will remove:
Minor Road Tar
Bird droppings, etc.
Industrial Fallout
NO OTHER PRODUCT WORKS SO WELL!
Brandon B. Ventura, CA I'm sorry it took me so long to fill out this report, but the first time I tried it I could not believe how well it worked and wanted to use it a 2nd time before I gave my report. Let me tell you, I have now used it six times and it has out performed anything I have ever used in the past. I have let a buddy of mine who does car detailing use it for a day and he was blown away, and wanted to know where to get some for his crew. Thanks again and we give it a 10.
After using the Bugs Off® Pad your car will be the cleanest it's ever been GUARANTEED OR YOUR MONEY BACK!
What makes Bugs Off® Pads different from other products
No need for bug removers, glass cleaners, sponges, tar removers, clay bars, etc.  The Bugs Off® Pad does the work of all of them, QUICK & EASY, as you are washing with only car wash soap & water and there are no chemicals in the Bugs Off® Pad, just American made fibers.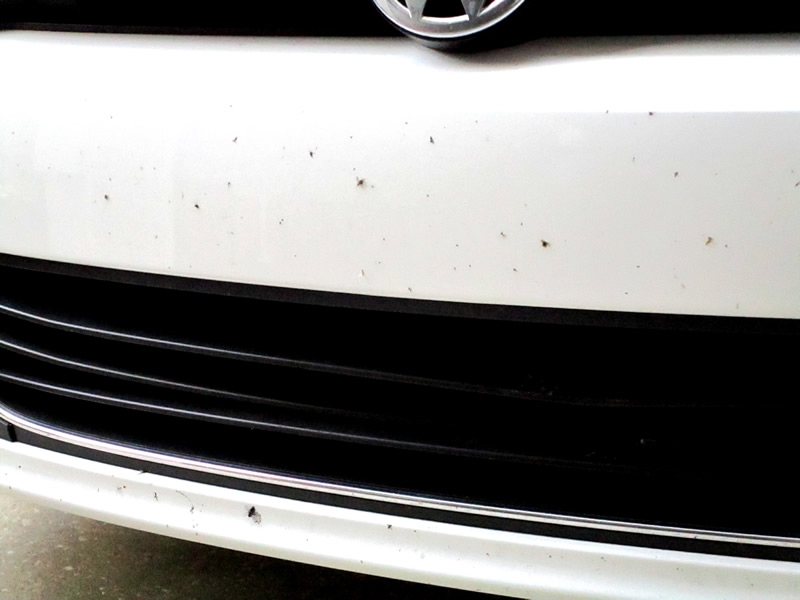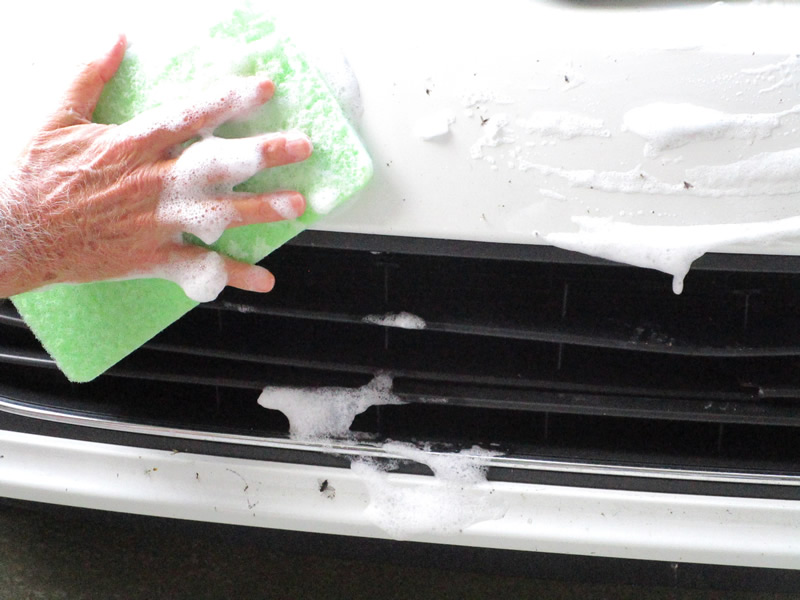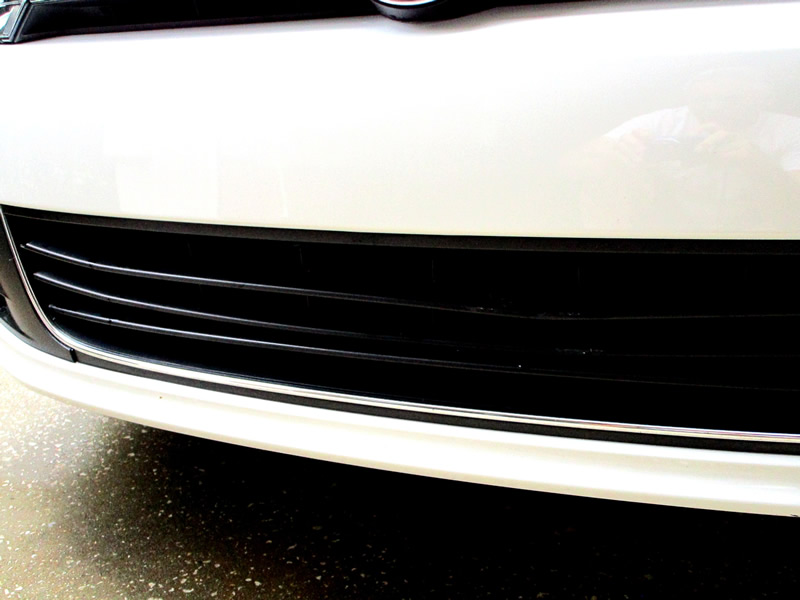 See Bugs Off Pads® in Action
Watch the video to see how easily all the bugs, dirt & grime will be removed using only car wash soap & water – No expensive, polluting chemicals or sprays needed!

OUR PRODUCTS
Better Than a Brush Scrubber
Developed & Patented for use by the US Navy & Commercial Aircraft to clean inside the flap wells of aircraft.
Use on RV's to: Clean under the slide-outs - Apply lubricant to the slide-out seals - Clean the steps and generator compartment - Clean behind the spokes on wheels and other hard to "get at" surfaces - Clean the engine air intakes vents, grills, etc. ** Just wash out and re-use over & over **
---
Bugs Off® Pads
Use to clean ALL areas of your vehicle. Reusable over and over again!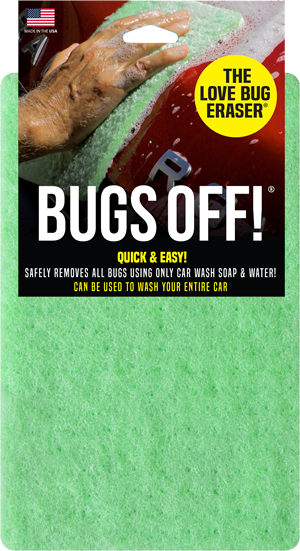 1 Bugs Off® Pad
$9.49 + $3.89 shipping
---
SAVE MONEY WITH OUR BUNDLES!!!
Bob Livingston, former editor of Motorhome & Trailer Life, states "my secret weapon is the Bugs Off Pad, a plain Jane looking scrub pad that does an amazing job of removing bugs" (April 2016 issue)
Bugs Off® Kits -

For cleaning RV's, Trucks, Vans, Trailers, & Home Windows Without Using a Ladder
Bugs Off® Clean & Dry Kit
Includes:
2 Bugs Off® Pads 3 Packs

2 Interior Cleaning Pads

1 Flat holder – holds 1 Bugs Off® Pad to any threaded pole – ideal for reaching upper areas, under ladders, between windows, etc.

1 Curved Holder - Built in 15 degree concave curve – great for cleaning large areas, curved body panels, windshields. Flattens out easily with slight pressure on pole. Cleans larger areas such as the sides of vehicles without need of a ladder. Holds 2 Bugs Off® Pads side by side.

1 Silicone blade squeegee – has a threaded hole in handle to attach to any pole with a threaded end. Dries flat, curved, and uneven surfaces completely dry in 1 swipe – use by hand or on a pole
3 Better Than A Brush Scrubbers

2 Brake Dust Erasers

1 Kit bag for product storage
Price: $99.98
S & H: $14.75
A $138.00 VALUE
---
Bugs Off® Deluxe Kit
Includes:
1 Bugs Off® Pad 4 Pack
1 Interior Cleaning Pad
1 Flat holder – holds 1 Bugs Off ® Pad to any threaded pole
1 Curved holder - Built in 15 degree concave curve – great for cleaning large areas, curved body panels, windshields. Flattens out easily with slight pressure on pole. Cleans larger areas such as the sides of vehicles without need of a ladder. Holds 2 Bugs Off ® Pads side by side.
2 Better Than a Brush Scrubbers

1 Brake Dust Eraser

1 Kit bag for product storage
Price: $75.98
S & H: $11.00
A $94.00 VALUE
---
Bugs Off® Easy Reach Kit:
Includes:
1 Bugs Off ® 3 Pack

1 Flat holder for the Bug Off® Pad– attaches to any threaded pole
1 Better Than A Brush Scrubber

1 Brake Dust Eraser

1 Kit bag for product storage
Price: $49.98
S& H: $8.99
A $65.00 VALUE
---